[German Version/Deutsche Version]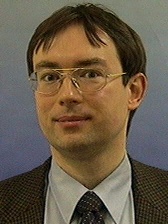 Dr. Stefan Brass
Professor (C4),
Institute for Computer Science,
University of Halle
Address:
University of Halle
Institute for Computer Science
D-06099 Halle (Saale)
GERMANY
Office: Room 313 (Von-Seckendorff-Platz 1, 06120 Halle)
[Google Maps] [Campus Plan].
Phone: +49-345/55-24740
Fax: +49-345/55-27333
Secretary: Ms. Vahrenhold, Phone: +49-345/55-24750
Office Hours: Tuesdays, 12:00-13:00.
Please check my German page for possible exceptions. E.g. the office hour on Tuesday, April 24, 2018 cannot take place.
Interests:
Databases
Logic Programming, Deductive Databases
Knowledge Representation, Nonmonotonic Reasoning, Negation as Failure
Database Education, Semantic Errors in SQL Queries
World Wide Web Query Languages and Search Agents
Semistructured Data
Current Lectures (Summer Term 2018):
Announcements:
Hints for Exam Preparation (in German, under construction):
For the "Science Night 2009" I am working on a talk about Search Engine Optimization with "http://www.bigzanders-feuerwerke.de" as a practical example. If you could contribute your own experiences about search engines and search engine optimization, this would be very welcome.
Information about the Search Engine Competition wettbehalle
Slides of the my public talk about search engines (in German) [June 21, 2006]:

I am working on an extended version, please check this web site again in July/August.
Lectures (Archive):
Recent Papers:
Biographical Information:
I am German and speak German, English, and Russian.
More Personal Information about me (e.g. Religion):

Marital Status: married (with Nina Brass), two children (Elisabeth and Daniel).
Hobbies: Fireworks, Music, Gardening, Reading, Walking/Hiking.
Test for Search Engine Optimization: wettbehalle
---
Stefan Brass (brass@informatik.uni-halle.de), March 20, 2003
Original URL: http://www.informatik.uni-halle.de/~brass/ [HTML 3.2 Checked] [Links Checked]